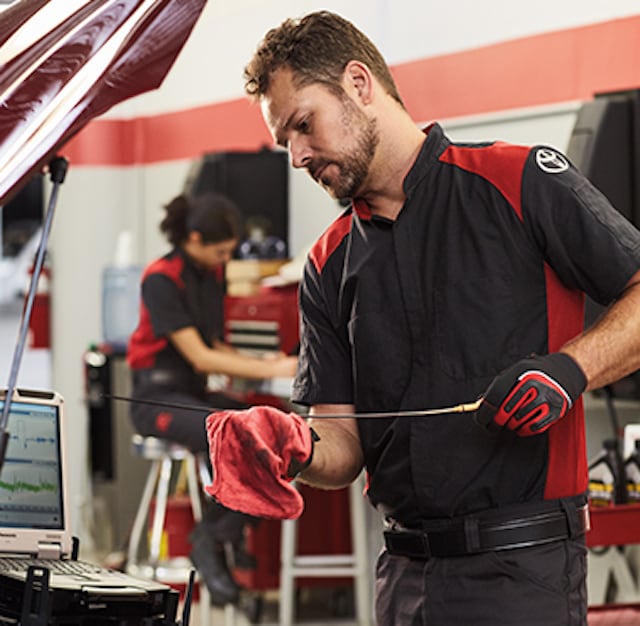 Checking your vehicle's oil is something you should do every time you gas up, although a lot of people skip it simply because they don't know how to. Toyota of Rockwall is here to show you how easy it is!
Find the oil dipstick. This is usually a small, bright orange handle with the oilcan icon on it attached to a long, slim piece of metal.
Carefully remove the dipstick and wipe it off. Your car's engine will most likely be hot, so be careful! Pull out the dipstick and wipe off the end with a rag so you can get an accurate oil level reading.
Reinsert the dipstick all the way in, then pull it back out.
Check the oil level and quality. There is a wider section towards the end of the dipstick. The oil level should be right in the middle or towards the top. The oil should be clear, with no "grit" in it.
Reinsert the dipstick. Don't forget this step! If your oil is low, most gas stations have spare oil you can purchase. Check your Owner's Manual or maintenance records to know what type to add.
Do you need more hands-on training with how to maintain your vehicle properly? Our expert service department is here to help! If you need to schedule your next service appointment, you can easily make one with Toyota of Rockwall online or give us a call at (469) 331-8372 and our Service Technicians will be happy to assist. Toyota of Rockwall is proudly located at 1250 East I 30, Rockwall, TX 75087, and we are excited to serve our Rockwall, Mesquite, Garland, and Kaufman customers!